Message from the President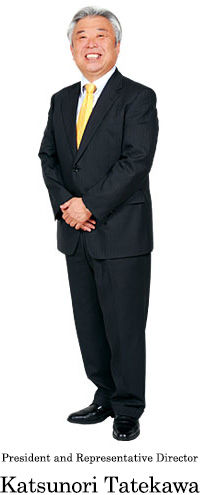 We've come this far because we never said, "It can't be done."
TRY was founded in 1978 as a company consisting of just five colleagues. At the time, I was the only one handling sales and marketing for our company. After much pondering of the question of what our policy should be in sales, I decided it should be to never say, "It can't be done."
Of course, work will naturally bring what at first may seem to be insurmountable obstacles and difficulties. Nevertheless, I did my best to stick to my policy, and I can say now that I never let myself think negatively and search for reasons why something couldn't be done. In time, as our number of employees grew, I found that this policy of mine had gradually taken root throughout the company.
Thanks to what is now this corporate culture in which everyone at TRY uses their intellect and ingenuity to overcome the various difficulties and issues that arise in the course of our work, we have been blessed with opportunities to work with a great variety of clients and to deal as professionals with a wide variety of media platforms. It is this diversity of clients and media that have made TRY the company it is today, and I can now say with confidence that our strength as a company is the diverse resources and skills of our staff that enable us to be a one-stop shop providing a great variety of media solutions to serve the real needs of our diverse clients.
"People are the stone walls, people are the castles"
At TRY, what we value above all else is people. We believe that a company should always value its customers first, and equally important to us are the people of our partner companies and our own employees.
"People are the stone walls, people are the castles." These are words of the famed 16th-century warlord Takeda Shingen, a leader who built no castle and went to every length to care for and trust the people in his service. His meaning was of course that even if you build a castle, it will be useless if you lose the hearts of your people after it is completed. You will no longer win battles and will be unable to defend the castle. As a corporate manager, I always keep these words of Shingen in mind.
Since it is an accepted rule that a manager should care for and trust his employees, I have always wanted our employees to apply this same rule in their relationships with each other as well. I firmly believe that quality work can only be done when the employees care about, trust and help each other. Also, because about 40% of our TRY employees are women, it is my aim to always take the lead in implementing measures to make ours a women-friendly work environment.
Look one step ahead and push forward with determination
In 2020, Tokyo will host the Summer Olympics and Paralympics. Of course, this will lead to further globalization in Japan. At TRY we are now nurturing staff capable of handling production work for a wider base of countries in a wider range of languages.
In Japan, the continuing decrease in birthrate and the aging of society will continue to bring new changes and challenges. At TRY, we are thinking about how we can better serve society and the communities in this changing environment and how we can reflect these changes in the solutions we offer our clients.
It is said that most companies only last for about 30 years, but TRY has now been in business for 40 years. We owe this success to none other than our clients. As we look to the next ten years, we will keep our thoughts on the next step ahead of us and always act with resolute determination, and with heartfelt appreciation we ask for your continued support.
(2018.9.1)