Information Security Management System (ISMS) Certification
Published: Dec. 12, 2014
TRY Co., Ltd. received certification for its Information Security Management System (ISMS) on December 12, 2014 under the ISO/IEC 27001:2013,JIS Q 27001:2014 standard.
Going forward, we will continue to thoroughly maintain our information security system integrity in order to ensure absolute assurance for our clients in our advertising, publicity production and other communication activities.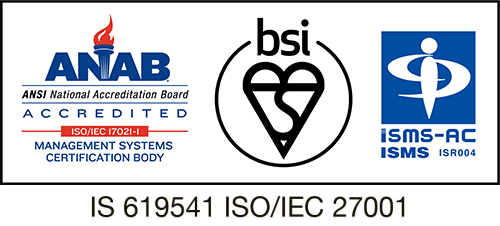 Certification standard
ISO/IEC 27001:2013,JIS Q 27001:2014
Certification registration number
IS 619541
Certified site
TRY Co., Ltd.
TRY Building, 3-9-3 Hon-komagome,
Bunkyo-ku, Tokyo 113-0021
Scope of registered certification
Materials and data involved in printing and publicity production and related services
Declaration of Applicable Scope (Edition 2), issued Nov. 28, 2014
Examination/registration organization
BSI Group Japan K.K.
Refer to the website below regarding the ISMS system.
URL for Japan Information Processing Development Center (JIPDEC) website ISMS accreditation activities page
https://isms.jp/english/isms.html