What is TRY?
Answering client needs fully with high value-added solutions
TRY Co., Ltd. is a comprehensive production agency with a 40-year history of achievement in the industry. This experience and knowhow makes us an agency that can offer Full-service, One-stop Solutions to meet diverse client needs in areas of specialty ranging from production of corporate brochures and promotional magazines and pamphlets, digital books and websites to planning and operation of events and more. Providing these services with a high level of added value to fully meet the aims and needs of each client has been the unchanging commitment of TRY since our founding.
1.Knowledgeable and experienced account managers are responsible for production
For the corporate brochures and pamphlets, the websites and other media solutions companies want, each has its own distinct messages to communicate. At TRY, we appoint a highly knowledgeable and experienced account manager to take responsibility for client support throughout the entire production process, from the first consultations to final delivery of the product. With this system we ensure high levels of client assurance and consistent production quality.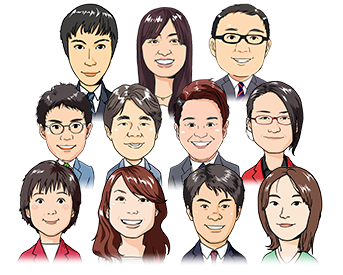 2.Full-service, One-stop Solutions for all your publicity and public relations needs
In the case of a corporate brochure for example, there are a number of stages to the production process, beginning with the copywriting and editing, the photo shoots and layout designing, and finally the printing and bookbinding. If it were left to a company's publicity department head to outsource each of these processes to different specialized companies, there would still remain a large amount of work and effort required to bring all the pieces together into a finished product.
With TRY's expertice as a comprehensive production agency, we can offer our services as a one-stop shop to handle the entire production process for our clients. Furthermore, we can take a corporate brochure, for example, and re-edit it for publication as a digital book, plan and organize events, distribute advertisement inserts, send out direct-mail ads and offer support for the full range of other publicity and public relations solutions a client may need. With our capacity to offer Full-service, One-stop Solutions, TRY can greatly reduce the time and labor involved in your PR activities.